Look away now if you are squeamish.....
But first, a bit of a back story.
I have, if I say so myself, rather slender delicate ankles - the kind you look at and think ... hmmm ... very nice.
The rest of me looks down at my ankles with a certain amount of envy and wishes their slender and delicate nature was indicative of me as a whole. But no - the rest of me is just
downright envious
of my ankles with their angles and curves and their slenderness ..... until that is...now.
My left ankle has taken on the personae of Jabba the Hutt's not much smaller sister ...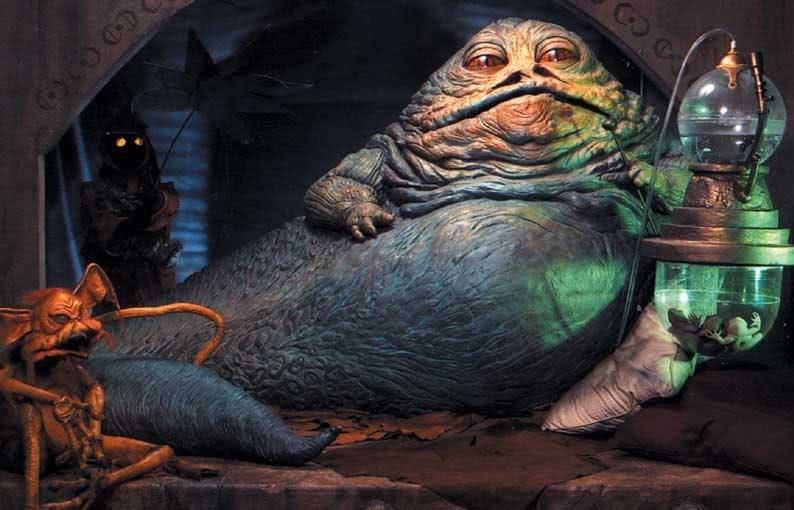 You don't believe me?
check this lot out ....
Can you see the family resemblance?
My poor left ankle can not believe what has happened and the rest of me is like ... deal with it fatty! mwuhahahahah!
And for those who have managed to stay without feeling the need for reaching the smelling salts, a fan and a convenient seat I shall explain what happened.
I tipped sideways into a hole (a small divot - not much bigger than a saucer) which was cheekily hidden beneath a layer of snow. Youngest and I walked into town last week - it was a beautifully icy wintery day with shockingly blue skies and sparkly snowy hills.
I was admiring said natural beauty when the rather sneaky - previously mentioned - small hole leapt out and sharply grabbed my slender and delicate left ankle. For a few moments it was just not the sky that was blue. !//**!!~#!!
When I got home (bravely limping and cussing) - I pulled Jabba's sister out of my boot. Owie owie owie!
Sigh.
So you can imagine it has kinda scuppered my #walk1000miles somewhat.
Now, several days later, still limping and sporting a elasticated support bandage and a grimace, I took my ankle out for a walk - I was going stir crazy at my self-imposed house arrest.
Himself, Youngest and I went to Skipton Woods to find the sculptures and walk amongst trees, listen to tumbling water, marvel at ice coated twigs and breath some cool fresh air.
We saw grazing horses,
...even managed to stroke a muscled neck.
We followed a well trod, well maintained path through sleeping trees and alongside gurgling streams. Crusting ice decorated the edges of the leat adding another layer to the reflections in the water.
We found the Medieval huntress as she raised her bow and aimed carefully. She did not blink her eye and was not distracted by our presence.
Along the way I spotted a carved bench down by the river. Adorned with kingfishers and a giraffe - I was confused by the inclusion of an African animal until I saw a small metal plaque.
Then I knew
.
A little more sombre we walked on, beneath the castle high on a narrow ridge flanked by water on both sides.
Once in Skipton we found a corner alongside the canal and stopped for lunch.
A local tried his luck and when he noticed we had Moss with us
he hurled abuse and foul words at us
and rattled his little fist
while we chuckled at his antics.
Then after he'd said his worst words, he came back down and
continued to patrol his patch.
Muttering dark and catty things at a blissfully unaware dog.
We returned back along the path beneath the castle,
past the huntress, still poised and steady,
past the bench with the giraffe and kingfishers,
past the stone poetry seat covered in rock hard ice.
Through the sleeping trees
and over the chortling brooks.
Up the steps and along the paths.
Back to the car.
My ankle was tired.
But we'd managed a whole 3.3 miles, Jubba the Hutt's not so small sister and me :)
Now - feet up
(no really - my foot is up
- being elevated to help reduce that squodgy mess that.is.my.left.ankle)
fire on, brew to hand and happy.
(despite that blue/green/grey hue)
Bring on Monday!